33 Top Software Solutions for Strategy Management
Oct 24, 2023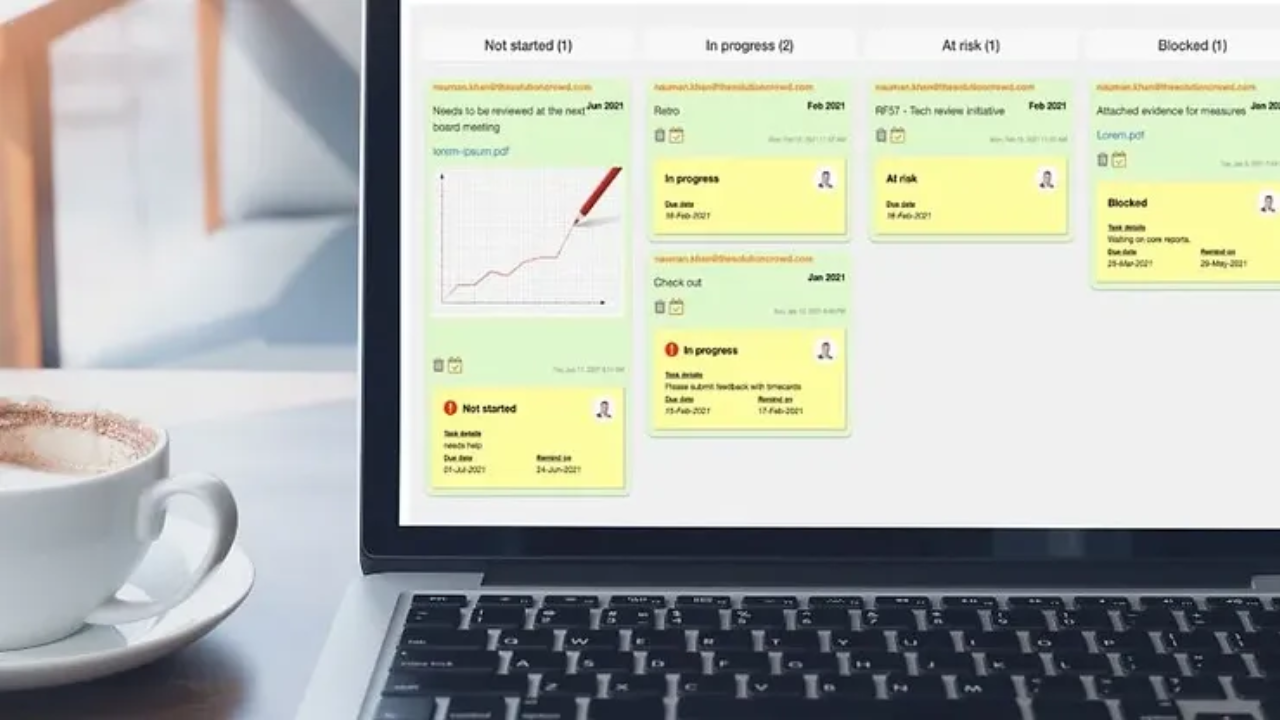 In business management, strategy isn't just a buzzword. It is the cornerstone of a successful enterprise. However, the orchestration of effective strategies comes with its share of challenges.
Software solutions have become the unsung heroes, offering a streamlined path toward systematically realizing organizational goals.
With many strategic planning software tools claiming to be the ladder to corporate strategy management nirvana, the quest for the perfect fit is exhausting. You need a strategic management software tool that helps you align your objectives, make data-driven decisions, and adapt to a changing landscape.
Selecting the right strategic planning software is crucial for your business to streamline operations, make informed decisions, and achieve long-term success.
In this article, we will extensively review leading strategic management software. We will examine their features and strengths, explaining why you should consider them.
This table showacases the top 6 software solutions for strategic management
1. Kippy
Navigating the strategic management process becomes exponentially more manageable with Kippy Cloud. This leading software solution transitions your strategy development from cumbersome spreadsheets to a sleek, AI-powered environment, establishing itself as an indispensable tool for the discerning strategist.
The uniqueness of Kippy Cloud lies in its ability to simplify strategic alignment across the organization.
It effortlessly aligns every personnel, metric, and activity with your business's core objectives, making it an essential asset for any organization keen on achieving a cohesive strategy.
Here's why Kippy Cloud is the superior choice for your strategic management needs:
Quick setup: Deploy your strategy in minutes, not hours. Plus, with free training included, your team will be up to speed in no time.

AI-powered strategy consultant: The integrated "ChatGPT" style AI swiftly aids in choosing the most impactful KPIs, revolutionizing strategy formulation.

Automated HR appraisals: Identify top-performing employees based on crucial metrics, streamlining the appraisal process.

Live interactive dashboards: Monitor organizational performance in real-time, keeping your strategy on track.
The AI feature in Kippy Cloud is a revelation for businesses striving for a sharp, data-driven approach to strategic management. It suggests the best KPIs and Key Results, tailored to each objective, ensuring your strategies are informed and intelligent.
Considering the unique demands and the competitive nature of today's business environment, having robust, AI-enabled strategic planning software is no longer a luxury.
The seamless blend of AI with strategic management in Kippy Cloud makes it a compelling choice for businesses, a complete product management solution.
Key features:
Team collaboration

AI strategy consultant for AI-driven KPI suggestions

Objective setting

KPI tracking

OKRs

Automated alerts

Role-based access control

Auditing and governance

Track progress

APIs and adapters to connect with other apps

Real-time updates

Live dashboards
Pricing
14-day free trial available

Plans start at $4.00 per month per user
2. AchieveIt
AchieveIt is a robust platform designed for business planning and execution. It's the nifty tool you would want by your side to get your strategies, teams, and processes all singing the same tune to hit those core goals.
It wrangles data from everywhere into one neat, central spot for sharper decision-making.
Its dashboards are a breeze to use, and the real-time tracking keeps everyone honest and in the know, letting teams adapt smoothly as things change.
It also offers automated reporting and easy integration that streamlines the workflow, saving precious time and ensuring no one's left in the dark.
Key features
Strategic planning alignment

Centralized data view

Real-time progress tracking

Automated reporting

Smooth integration

APIs and adapters to connect with other apps
Pricing
It has three plans: core, plus, and pro

All plans have a 20-user minimum

No free trial is included
3. Cascade Strategy
Cascade Strategy is a comprehensive strategic planning software that helps businesses plan, execute, and track their strategic goals. It's invaluable for aligning organizational efforts and ensuring everyone works towards common objectives.
The software offers tools for strategic planning, setting KPIs, and generating automated reports.
With Cascade, companies can foster a culture of transparency and accountability, making business strategy execution more effective and measurable, thus significantly contributing to organizational success.
Key features
Offers over 1000 connections

Goal delegation

Tracking dependencies

Goal deck

KIP and OKR tracking

User roles
Pricing
Offers a free trial for up to four users

Premium plan costs $24 per month per user for up to 25 users

You can get a quote for larger teams
4. Smartsheet
Smartsheet is a dynamic work management and automation strategic planning software crucial for strategic planning and execution in your business. You will appreciate the streamlined collaboration through its spreadsheet-like interface, enriched with project management functionalities.
Setting goals, allocating resources, and tracking progress in real-time is possible, ensuring alignment with overarching strategies.
Key features
Automation

Strategic planning alignment

Team collaboration

Dashboards and reporting

Proofing

Secure request management

Intelligent workflows

No code work apps

Hundreds of integrations

Accounting Administration
Pricing
Offers a free plan for one user and up to 2 editors with limited features

The Pro and Business plans start at $7 and $24 per user

You might get a better deal for an enterprise-level subscription
5. Wrike
Wrike is another strategic planning software that helps in smoothing out project planning, tracking, and teamwork. Imagine a hub with custom dashboards, real-time progress checks, and intelligent workflow automation to take the mundane off your plate.
It's all about making savvy calls and timely tweaks. Plus, with seamless integration and crisp reporting, Wrike is that buddy in your corner, turning operational chaos into strategic harmony.
Key features
Project resource planning

Dashboards

Proofing

Strategic planning alignment

Dynamic request forms

Over 400 integrations

Kanban boards

Mobile and desktop apps

Cross-tagging

Gantt charts
Pricing
It has a free plan if you want to test out the platform

$9.80 per user per month in the Team plan and $24 per user per month for the Business plan
6. FunctionFox
FunctionFox is a tool for businesses aiming to spruce up their project workflows and get the most out of their resources. Its user-friendly interface makes keeping tabs on project milestones easy, ensuring everything hums along nicely and stays within budget.
The instant insights and tailor-made reports are a boon for decision-makers, steering the organization down the road to success.
Key features
Time and expense tracking

Estimates and budgets

Powerful reporting

Task and action assignments

Internal communication boards

Online request forms

Project management
Pricing
They offer a free plan with a maximum of two projects and two users

The three-tiered paid plans: Classic, Premier, and In-House, start at $5, $10, and $15 per user per month, respectively.
7. Peoplebox
Peoplebox provides precise analytics on friendly dashboards and straightforward reports, paving the path for sharp decisions.
The charm of Peoplebox lies in its continuous performance tracking, feedback loops, and tailor-made growth plans—it's all about fueling engagement and sprucing up talent development.
Peoplebox isn't just another strategic planning software; it seamlessly aligns your team's grind with those big-picture business goals.
Key features
Continuous performance tracking

Employee feedback and surveys

Personalized development plans

Goal setting and alignment

1-on-1 meeting agendas

Team and organization health metrics

Integration with other HR and communication tools
Pricing
No free trial available

Prices start at $7 per user per month all the way to $15 per user per month

Special discounts for large teams are available
8. Apptio (Targetprocess)
Apptio shines as a go-to strategic planning software for strategic planning, throwing you real-time snapshots of project journeys while ensuring your team's hustle is vibing with the big business game.
It crafts a playground where collaboration sparks ideas into ready-to-roll plans. The custom-fit workflows and savvy resource juggling are just icing on the cake, ensuring each project cruises smoothly.
Key features
Real-time project tracking

Collaboration hub

Customizable workflows

Resource management

Time and expense tracking

Portfolio management

Integration ease

Tracks progress
Pricing
Free trial available

You can request quotes for larger teams
9. Meister Task
MeisterTask is a powerhouse strategic planning software that helps businesses choreograph project workflows and make the most out of their resources. Its easy-to-use dashboard makes tracking project milestones a breeze, ensuring everything is delivered on time and within budget.
The real-time insights and flexible reporting features give leaders the upper hand in making decisions backed by solid data.
Key features
Interactive task management

Customizable workflows

Collaboration

Time tracking

Integration

Organizational analytics

Kanban boards
Pricing
The Pro plan is at $15.50 per user every month, while the Business plan is at $31.50

There are custom plans available for a large team
10. StrategyBlocks
StrategyBlocks offers a sturdy platform for strategic planning, making it easy for organizations to see and carry out their strategic plans effectively. Its engaging 3D interface paints a clear picture of goals and progress, which helps in making sound decisions.
The real-time insights and detailed reporting features are great for keeping an eye on performance and tweaking strategies whenever necessary.
Key features
Interactive strategic planning solution

Customizable workflows

Collaborative platform

Performance metrics

Integration flexibility

Risk management
Pricing
A 30-day trial is available

Premium plan costs $750 per year for a team of up to 50 members
11. Hive
Hive truly stands out in strategic planning software, flaunting features that quickly assist in planning and managing projects. Its approachable interface turns tracking tasks and resources into a straightforward process, aiding in making clever choices.
The live analytics and team collaboration perks ensure everyone is aligned with organizational objectives.
Key features
Real-time project tracking

Customizable workflows

Robust strategic planning features

Collaboration space

Time tracking

Integration capability

Analytics
Pricing
Free plan available for up to 20 users

$12 per user per month team plan

Discounts available on the Enterprise plan
12. Stratsys
It is an intuitive, easy-to-use, and versatile strategic planning software for strategic planning. Stratsys provides an intuitive platform for strategic management, simplifying planning, activity tracking, and reporting. It's designed to drive continuous improvements within organizations.
The unified user experience across the platform makes managing various strategic planning activities easy.
By reducing barriers and administrative hassles, Stratsys enables organizations to focus more on strategic planning initiatives, making real organizational improvements swiftly and efficiently.
Key features
Intuitive platform

Unified user experience

Scalable solution

Efficient reporting

Security and compliance

Seamless integration
Pricing
Pricing is not available on the website, and you will need to contact sales to get a quote
13. Lucid strategic planning software
Lucidchart boosts strategic planning by aiding teams in visualizing complex ideas and processes. It fosters better decision-making and collaboration through a common visual language.
Not just for mapping the present, it's a handy tool for sketching a clear roadmap for your business's future, making strategic planning a breeze.
Key features
Plan and organize scrum teams

Map data flow

Real-time collaboration

Voting on ideas

User flows

Business process maps
Pricing
The pricing starts at $119.40 per user per year for an individual, $108 per team member for teams, and $219 for enterprise clients
14. ClearPoint Strategy
ClearPoint Strategy is your go-to for seamless strategic planning. It pulls together data from across your organization, offering real-time insights to pinpoint issues and suggest fixes.
Tailored reports and smooth teamwork align your big-picture goals with project specifics, ensuring you are always on track for success.
Key features
OKRs and KPIs

Ad-hoc analysis

Multiple dashboards

Multiple integrations

Advanced analytics

Customizable reports

Good strategic planning software
Pricing
ClearPoint Strategy has no clear price for their plans. You will need to contact their sales team to get a custom quote.
1

5. Kanbanize
Kanbanize is a robust platform loaded with features to streamline your strategic planning process. What really draws you in is its ability to lay out all projects visually, making it a breeze to track all dependencies.
With its cascading initiatives, you're not boxed in; you can work seamlessly across endless layers in the hierarchy, ensuring nothing slips through the cracks.
Key features
Workflow management

Timelines

Kanban card functions

API integration

Rich strategic planning features

Multiple integrations

Great visual dashboards

Project forecasting
Pricing
They offer a free trial

The yearly subscription is priced at $149 a month, accommodating up to 1000 users. For larger teams, they have an Enterprise plan offer.
16. Paymo
It is one of the best strategic planning software for managing projects and tracking time, which is super crucial for strategically steering businesses. It's your go-to software for planning, rolling out, and keeping a keen eye on projects, ensuring they jive well with your bigger business game plans.
It dishes out real-time insights through easy-to-navigate, interactive dashboards, and in-depth reports, paving the way for intelligent decision-making.
Key features
Time tracking and reporting

Task scheduling

Invoicing and expense tracking

Project templates

Kanban boards

Resource scheduling

Advanced analytics and custom reporting
Pricing
Paymo offers a free plan, which is ideal for freelancers.

Their paid plans, Small Office and Business start at $11.95 and $18.95 per user per month, providing scalable solutions for growing businesses.
17. Favro
Favro is an agile project management and collaboration strategic planning software vital for business strategic initiatives and operational management. It supports you in planning, executing, and evaluating projects, aligning them seamlessly with overarching business strategies.
Favro provides real-time insights via easy-to-use, interactive dashboards and comprehensive reports.
Key features
Adaptable planning

Real-time collaboration

Workflow automation

Backlog management

Roadmapping

Integrations with popular third-party tools

Custom fields

Advanced reporting
Pricing
Favro offers a variety of pricing options catering to different organizational needs, starting at $10.20 per user per month.
18. Easy Project
It is a comprehensive project management tool that streamlines task allocation, time tracking, and budget management. You will love how intuitive the user interface is and how it helps you track the various metrics in one glance.
If you are a growing business, you will love the software's rich feature set, including Gantt charts and resource management. It is designed to help foster enhanced collaboration and efficiency.
Key features
Resource management

Time tracking

Customizable dashboards

Mobile Accessibility

Integration capabilities
Pricing
Offers three-tier pricing- Essential, Business, and Platform for $5.90, $11.90 and $23.90, respectively
19. TeamGantt
TeamGantt is a user-friendly strategic planning software that shines when it comes to project planning and teamwork. If you're a fan of Gantt charts, this tool is definitely worth a try. It lets you craft a visual timeline, simplifying project management and task tracking.
The additional perks like shared timelines, document storage, and discussion threads are the cherries on top, making it a breeze to keep everyone on the same page.
Key features
Gantt charts

Collaboration

Document storage

Task dependencies

Drag-and-drop scheduling
Pricing
You only need to pay for the managers; everyone on the team uses TeamGantt for free.

They offer three plans starting from $19 per month to $399 per month
20. Bitrix24
Bitrix24 is your one-stop shop for managing projects, communicating with teams, and keeping tabs on customer relationships. With a buffet of tools like task management, document storage, and time tracking, it pulls all your work and chatter into one tidy place.
It's like having a cozy digital hub where efficiency and transparency take center stage, making the daily grind much smoother for your crew and clients.
Key features
CRM system

Strategic planning alignment

Task and project management software

Document management tool

Communication tools

Time management

Calendar and scheduling

Automation and workflows

Integration capabilities
Pricing
Plans start at $49 per month for five users, $99 for 50 users, and $199 for 100 users.
21. Aha!
Aha! serves as a strategic planning compass for teams, easing the creation and sharing of detailed roadmaps. Its user-friendly interface encourages collaboration and prioritization of tasks.
Ideal for product development ventures, this strategic planning software ensures everyone's aligned and marching towards the same goal, making the path from brainstorming to achieving milestones a coordinated endeavor.
Key features
Roadmap creation

Collaboration tools

Prioritization frameworks

Integration capabilities

Ideation management

Reporting and analytics

Customizable workflows
Pricing
Aha! offers various pricing starting at $59/user/month. Free 30-day trials are available.
22. Zoho Projects
Zoho Projects simplifies strategic planning with intuitive planning, tracking, and collaboration features. It turns visions into actionable tasks, clearly visualizing progress through Gantt charts.
The strategic planning software also integrates seamlessly with your existing framework, ensuring that your strategic planning is circumspect and data-driven.
Key features
Time tracking

Gantt Charts

Reporting and analytics

Collaboration tools

Document management

Issue tracking

Automation

Integration capabilities

Resource allocation
Pricing
Zoho Projects offers a free plan for up to 3 users and paid plans with a 10-day free trial.

The premium plan costs $7.75 per user per month, while the Enterprise plan costs $15.40 per user per month
23. ProofHub
If your team loves visual data representation, then ProofHub is worth giving a try. The Gantt charts and the Kanban boards offer a great way to visualize the strategic plan on a broader scale.
The features in the strategic planning software allow for seamless communication between the teams so everyone stays on track, making the strategic planning process a breeze.
Key features
Gantt charts

Kanban boards

Custom workflows

Time tracking

Discussions and chat

File sharing and management

Reporting and analytics

Calendar and scheduling
Pricing
ProofHub has two plans: Essential at $45per month and Ultimate Control at $89 per month, with varying features
24. Scoro
Scoro is a one-stop strategic planning software that simplifies project handling and business processes. You will love how it neatly organizes tasks, schedules, and finances, offering a clear overview for intelligent decision-making.
With automated routine tasks and collaborative space, Scoro will help you align your projects with organizational goals. It is an excellent tool if your team is aiming for long-term success.
Key features
Project management

Task scheduling

Financial management

Real-time dashboards

Work automation

Time tracking

Collaboration tools

Customized performance reports
Pricing
Scoro offers Essential ($26/user/month), Standard ($37-$47/user/month), and Pro ($63-$95/user/month) plans, each with escalating features. Ultimate plan has custom pricing for additional features.
25. Confluence by Atlassian
Confluence by Atlassian is a go-to space for teams to mesh ideas and document plans, ensuring everyone's on the same page.
It's easy to use with templates for different needs and pairs well with Jira for a fuller project view. It's a solid pick for steering projects strategically and fostering teamwork.
Top features
Real-time collaboration

Document management

Project planning

Template library

Integration with Jira

Page and file versioning

Access control and permissions
Pricing
Confluence offers Free, Standard, Premium, Enterprise, and Data Center plans with varying user limits, storage, and support levels.
26. ClickUp
ClickUp is your team's central hub for project planning and progress tracking. With handy features like Gantt charts and custom statuses, managing tasks feels intuitive.
Its collaborative space keeps everyone in sync, while insightful analytics help in making informed decisions.
ClickUp makes strategic planning a collaborative and insightful endeavor.
Top features
Goal tracking

Custom statuses

Gantt charts

Dependencies

Time tracking

Collaboration tools
Pricing
A free plan is available for personal use

The unlimited plan starts at $7 per user, while the Business and Business Plus plans are $12 and $19 per user, respectively
27. Anaplan
Anaplan provides a range of solutions and software primarily designed to tackle intricate planning problems. Its strategic planning software is designed to seamlessly link your company's plans with both people and data, streamlining the strategic decision-making process.
One of this tool's key benefits lies in its ability to assess the financial ramifications of your strategic planning solutions. Consequently, this tool is primarily aimed at finance teams.
Key features
Predictive analysis

Central repository

Planning models

Test scenarios
Pricing
You will need to contact their sales team to get a customized quote
28. Any.do
Any.do is your go-to tool for effortlessly handling tasks, projects, and collaborative work, all neatly organized within a single hub. It excels in serving as a project management powerhouse, although it isn't geared towards strategic planning software.
Within Any.do, you can craft boards and establish workflows that empower you to monitor, oversee, and engage in seamless teamwork while tackling your projects.
Key features
Sub-tasks and due dates

Over 500 integrations

1-click import

Team collaboration tools

Data visualization
Pricing
The premium plan is $3 per user per month, while the team plan is $5 per user per month

Any.do is free for individuals
29. Jedox
One of the most adaptable platforms for business strategy management, Jedox ensures that your team is united to accomplish strategic planning goals in style.
It has a robust integration with several platforms, and you can easily track various performance metrics, including sales performance, apart from strategic planning.
Key features
High-level summaries

Detailed analytics

KPIs

Automated notifications

Ability to comment

Teamwork tools

Strategic planning alignment
Pricing
Unfortunately, they don't offer any free plan. You will need to contact their sales team for a custom quote
30. Airtable
Airtable offers a versatile range of features, including creating tailored marketing workflows, building product roadmaps, and seamlessly integrating data and processes across your business operations.
Its operational tools excel in helping you efficiently track initiatives and swiftly spot any potential gaps or timeline conflicts.
Key features
Timeline views

Automated workflows

Multiple integrations

Real-time dashboards

Calendar view

OKRs and SLAs
Pricing
The complementary plan comes with a cap of 1200 records. On the other hand, the Plus plan kicks off at $12 for each user every month, and the Pro plan begins at $24 for each user monthly.
31. MPOWR Envision
MPOWR Envision, created by MPOWR, is a cloud-based strategy planning software within its comprehensive suite of solutions. Beyond the strategy execution platform, MPOWR extends its offerings to include coworking spaces, other strategic planning solutions, and the innovative MPOWR Community tool.
One notable feature of MPOWR Envision is its strategy methodology-agnostic approach, ensuring its adaptability and relevance for organizations of all sizes and backgrounds.
Key features
Critical success factors tracking

Progress notes

Global and individual KPIs

Automated notifications

Over 3000 integrations

Real-time updates
Pricing
Premium plans start at $500 per month for unlimited users
32. Betterworks
The software tool focuses more on performance management rather than strategy management. You should consider this tool if your goal is to increase employee efficiency and engagement.
The software's OKR component will help you channel your workforce toward a common institution-wide goal. The interface is also easy to use.
Key features
Easy implementation

HR insights

Feedback system

Strategic planning alignment

Localizations

APIs

Personal 1:1 meetings

Real-time feedback
Pricing
If you have a team of between 5 and 1,000 employees, the premium plan will cost you $7 per user per month

Custom plans are available for larger teams
33. Workday Adaptive Planning
If you are at the bleeding edge of innovation, then this strategic planning software is worth a shot. The software helps you plan and implement strategies that are very adaptable.
With features like capacity planning and spend modeling, this is an excellent tool for start-ups and small businesses.
Key features
Driver-based models

Monitor projects in real time

No coding required

Rules engine

Connect your CRM, HR, and PAS data in a click
Pricing
While the company provides a 30-day free trial, the pricing information is not available. You will need to contact the sales team for a custom quote.
Also read: 15 Best Alternatives to Spreadsheet Strategy Management
Takeaway: Enhance your strategy management with AI-powered Kippy
Strategic planning software enhances efficiency, data integration, real-time insights, collaboration, alignment, resource allocation, and tracking for competitive advantage and scalability.
However, selecting the right software is crucial as it impacts efficiency, productivity, data management, and overall business success; aligning tools with specific needs enhances outcomes.
While we covered 33 of the most popular tools for the strategic planning process, Kippy stands out thanks to its user-friendly interface and powerful AI integration capabilities.
Kippy is a clear winner when it comes to strategic management software solutions and boasts superior usability and scalability.
Book a live demo today to see how Kippy can transform your strategy planning and execution process.
Coaching Services
Let us help you fast track your strategy and performance project. Our advisor can save you potential problems. Book an hourly coaching session today...
Book Coaching Session
Stay connected with our events and updates!
Join our mailing list to receive the latest events and updates from our team